I've been seeing other markets
Another day another market, some history, and a recipe for salt cod gratin.
After the damp squib of Marseillan market on Tuesday – sorry to run you down, village of my heart, but raining, on market day, really? Try harder – I couldn't go a whole week without rolling my wicker basket along a cobbled street, filling it with meals-in-waiting.
On Thursday I had an appointment in Agde, and fortuitously Thursday in Agde happens to be market day. When we first started coming to this part of France almost twenty years ago, we used to stay in a beautiful house hidden away in the back streets of Agde, the Sixteenth Century Maison d'Estella, built from the black, volcanic basalt which gives the town its name, the Black Pearl of the Mediterranean.
Back then, the market used to snake through the whole town. In the past few years, the stalls began on the square in front of the library and stretched along the rue Jean Jacques Rousseau. For the moment, as they dig up the boulevard beneath the plane trees to repave it, it's in a car park. ("It's going to take THREE YEARS," the waitress at The Plazza said rather desperately, as we sat at our table in the rubble, sipping our grandes crèmes). The car park is next to the Hérault river, by the Moulin des Évêques, which began its life in the Thirteenth Century as a flour mill, then in the Nineteenth Century became a hydraulic plant, then later still, a sardine factory. As is the way of these things, it's now an exhibition hall and smart flats.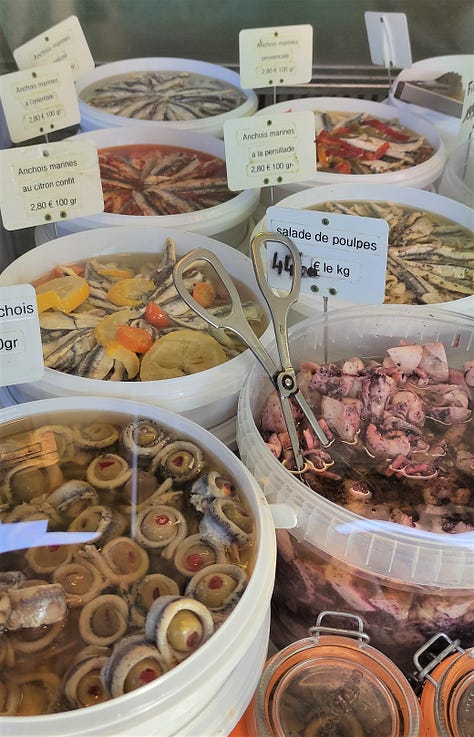 But I know you didn't come here for the history lesson, even though I love a history lesson. Count yourself lucky I'm not sharing with you here the story of the Château Laurens, over there, on the other side of the river, an eccentric Belle Epôque mansion whose marble columns, stained glass windows and exuberant Art Nouveau carving and mosaics never really recovered from the place being used as the Nazi headquarters during the war. Until now. Ten million euros is being spent on renovating it and it's slated to reopen this summer. You can follow it on Instagram if you like (#chateaulaurens). It looks magnificent.
But that's enough of that. I promise no more history lessons before we get through the gratin at least. Thursday morning, I was in the car park, no cobbles, but with my shopping trolley ready to roll. On one stall, there were big sides of salt cod. I got into a conversation with the stall holder about how to prepare it, how long to soak it, how many changes of water, before whipping it up with olive oil and potatoes into brandade. He chopped a big piece into cave-man looking chunks for me, to make it easier to soak. I bought salad. I always buy salad. And oranges, and fresh spinach pasta and tomato sauce for lunch. Another day, another market.
Keep reading with a 7-day free trial
Subscribe to Lickedspoon with Debora Robertson to keep reading this post and get 7 days of free access to the full post archives.